The Sake Expert Is In … and Here's What She Thinks
Everyone's heard of wine sommeliers, but did you know that there are sake sommeliers? Well we did, and want to introduce you to one of the best. Chizuko Niikawa-Helton was awarded the prestigious title of "Sake Samurai" by the Japan Sake Brewers Association Junior Council. Since then, she has gone on to become one of the best known sake experts outside of Japan. Here are her tips for the holidays!
Truffle-Kan
Daishichi Kimoto Honjozo 4 oz (140 – 150 F)
Add some sliced truffles or crumbs
(you can use dried porcini mushrooms or very small amount of dried shiitake mushroom)
Hot Sake Apple Pie
Tengumai Yamahai Junmai 3 oz (140 – 150F)
A teaspoonful of honey
Some dried apple chips
Cinnamon stick or some powder
Hot Ume-skey
Nanbu Bijin No Sugar Umeshu (plum sake) 3 oz (140 – 150 F)
A teaspoonful of your favorite whiskey
Also, you can enjoy this cocktail as on the rocks.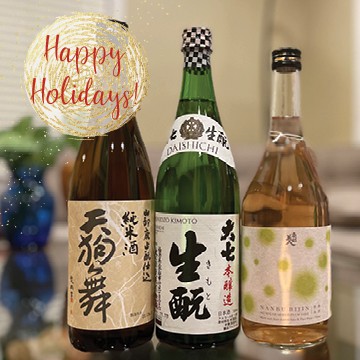 All-in-one Gift Set: Spread the Good Cheers! Trio
Enjoy them as is, or try these cocktail recipes. For you adventurous sake lovers, we put all three sake in one set! Go ahead and "Spread the Good Cheers!"