Thu, November 10, 2022, 6:00 PM – 8:00 PM EST @ Shopkeepers 1231 Florida Avenue Northeast Washington, DC 20002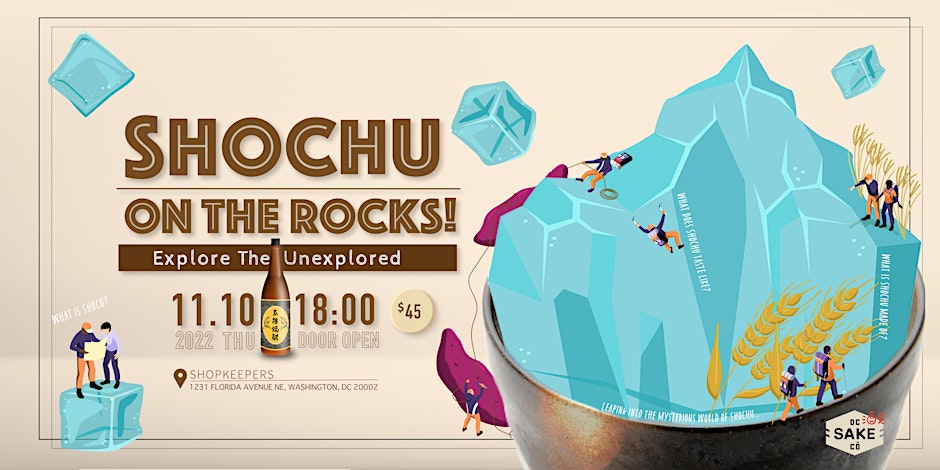 Hello DC! It is time to cultivate another Japanese national drink in Washington DC with DC Sake cō. This time, in celebration of Shochu Day on November 1, we will explore Japan's national SPIRITS, Shochu.
It's not soju, it's SHOCHU!
What is Shochu? Not Soju!? Is it not Whiskey? What's the history?
At this event, all your questions will be answered, and we will thoroughly unravel the mysteries and charms of Shochu. We will start off the event with an interactive mini-pairing session. We will then open the floor for you to taste 10+ various Shochu. All the Shochu you will taste, of course, will be available at DC Sake cō.
We are also extremely excited to collaborate with Shopkeepers, another neighborhood favorite spot for this event. Make sure to check out all the great items that they carry while exploring Shochu!
The event is ticketed, and seats are limited (30 seats).
18:00 Door Opens
18:15 Mini interactive lecture about Shochu
18:50 Open Floor
20:00 End of the event
Visit here to purchase tickets!
WHEN
Thursday, November 10th, 2022
WHERE
Shopkeepers 1231 Florida Avenue Northeast Washington, DC 20002