Join us and indulge in an evening of refined flavors and cultural sophistication at our exclusive Japanese Whisky tasting event!
Thursday, September 21 · 7 – 8:30pm EDT
Domaine Storage – Tasting Room
Connecticut Avenue Northwest Washington, DC 20008 United States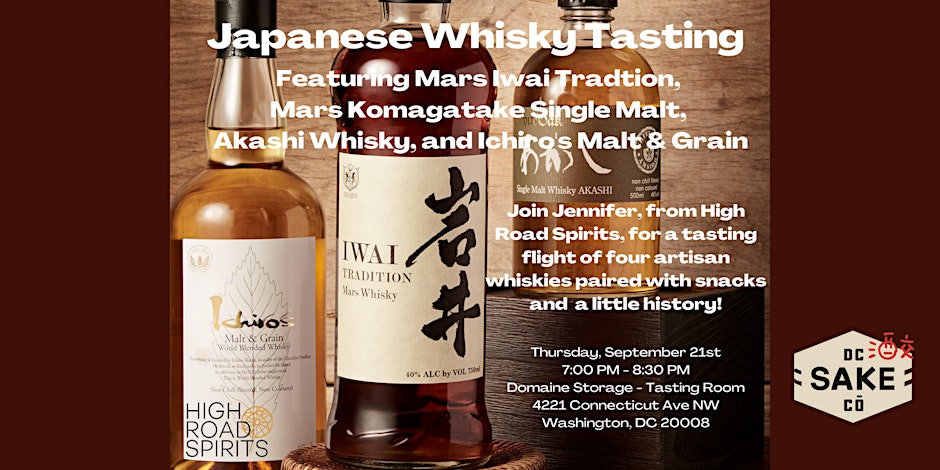 Embark on a captivating odyssey into the world of Japanese whisky as DC Sake cō proudly launches its highly anticipated Japanese Whisky Program, guided by Jennifer Nellis, a distinguished representative from High Road Spirits. Join us for an exclusive evening where tradition, innovation, and craftsmanship converge in an unparalleled tasting experience.
At this tasting, you will be guided through a curated tasting flight featuring four distinctive Japanese whiskies, carefully selected to showcase the breadth and depth of the country's whisky-making artistry. Jennifer's expertise will illuminate the flavor profiles, origins, and production methods, while you savor each sip. 🥂
In addition, elevate your tasting experience with perfectly paired snacks that harmonize with the unique characteristics of each whisky. Immerse your senses in the interplay between textures and flavors, enhancing the depth of your experience.
[Featured whiskies]
Mars Iwai Tradition: Experience the delicate balance of sweet and spice in this expression that pays tribute to the craft of whisky-making.

Mars Komagatake Single Malt: Journey to the rugged landscapes of Nagano with this single malt, showcasing the influence of its unique terroir.

Akashi Whisky: Discover the elegance of White Oak Distillery's signature expression, known for its subtle complexity and smooth character.

Ichiro's Malt & Grain: Immerse yourself in the artistry of blended whisky with a harmonious combination of malt and grain, a true testament to Ichiro Akuto's ingenuity.

*Special Secret Bottle Opening*

[Date, Time, Admission]
September 30, 2023 (THURS)
7:00 – 8:30 PM EST
Early bird special: $35/person
$40/person
*Early bird special ends on September 3rd.
Participants will be able to purchase whisky at the end of the event.
As this marks our inaugural foray into the world of whisky, we bring the same passion for craftsmanship and quality that has defined our sake offerings.