Join us and illuminate your sake curiosity with Euka Isawa, as we unveil the art of crafting your own sake!
Tuesday, September 19 · 6:30 – 8pm EDT
Shopkeepers
1231 Florida Avenue Northeast Washington, DC 20002 United States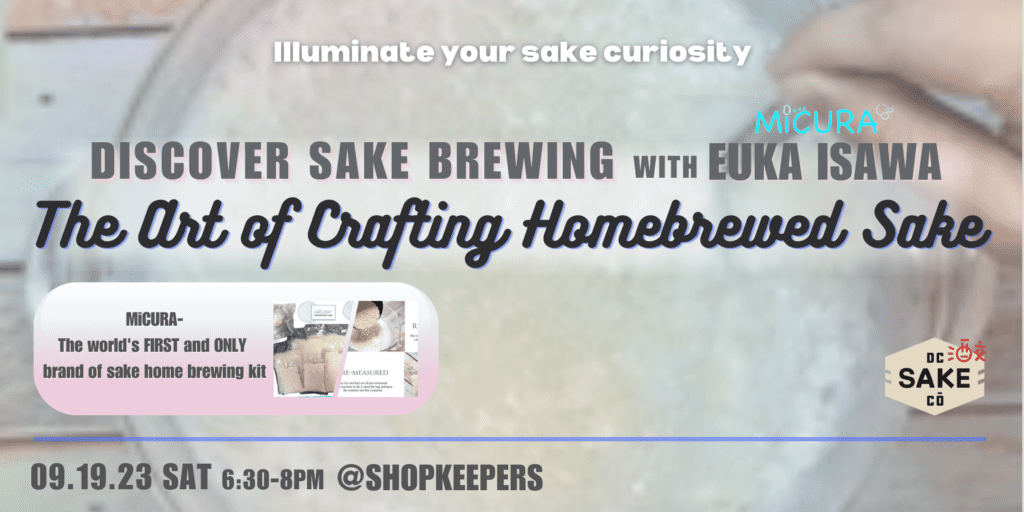 Join us for an immersive journey into the art of craft sake brewing, where tradition meets creativity. Whether you're a sake enthusiast or a curious beginner, this event will unlock the secrets behind crafting your very own batch of exquisite sake at home.
The event will be led by Euka Isawa, a trailblazing young entrepreneur who embarked on her journey in the world of sake at the tender age of 21. Hailing from a lineage that produces the exquisite Katsuyama sake, Euka took the reins of their overseas operations, introducing this time-honored Japanese tradition to an international audience.But Euka's ambitions did not stop at simply exporting her family's legacy. With an unwavering passion for the art of sake brewing, she pioneered "MiCURA", the world's first-ever sake home brewing kit, making it possible for enthusiasts worldwide to embrace and partake in this ancient craft.In this exclusive event, Euka will guide attendees through:
The rich history and cultural significance of sake
The intricate art and meticulous science behind sake brewing
A demonstation of the "MiCURA" home brewing process
Tasting of home brewed sake with snacks
Whether you are a seasoned sake connoisseur or a curious novice, this evening promises a deep dive into the world of sake brewing, guided by one of its brightest young luminaries.
[Date, Time, Admission]
September 19, 2023 (TUES)
6:30 – 8:00 PM EST
Early bird special $20/person
$25/person
Early bird special will end on September 3rd.
*Participants will have the opportunity to purchase their own MiCURA home brewing kit after the event which will be delivered directly from Japan.
Experience the magic of turning simple ingredients into a refined and delicate Japanese rice wine, right in the comfort of your own home! Kanpai to your sake brewing adventure!
For more information on MiCURA, please see link